Following a Journey to the Priesthood
Aug 12, 2019

|

As our Spotlight for our parish website, we are very blessed to follow a journey to the priesthood featuring one of our own parishioners, Michael Rogers, S.J. Michael is the son of Michael and Mary-Ellen Rogers. He has two siblings, Francis and Mary Kate. Both Francis and Michael are graduates of Holy Cross College. Mary Kate is a student at Northwest Catholic High School.

Quoting from the Holy Cross Magazine article "Choosing a Path," we learn about Michael's journey and response to the call to the priesthood.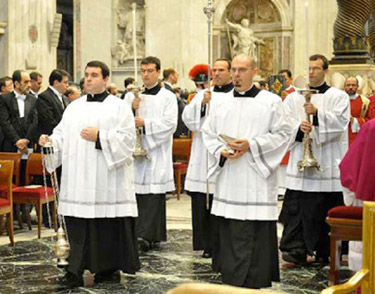 "Michael Rogers, S.J., '02 is the "old man" in this crop of new Jesuits-not in terms of his age, but because he's been in the Society the longest. Growing up in Wethersfield, CT, as the oldest of three siblings, he attended Catholic Schools throughout his life. A philosophy/religious studies major at Holy Cross, Rogers entered the Society the August after graduation, which is unusual. For most candidates, there is a several year break between college and the novitiate. He now holds a master's degree in philosophy from St. Louis University. He taught religion at Boston College High School. His Facebook page includes a 'countdown clock' until his expected 2013 ordination."
In Michael's words as quoted from the Holy Cross Magazine article we read:
"During high school I went to a couple of vocation meetings in the Archdiocese of Hartford. During my sophomore year in college, I started thinking seriously about it. More and more, it started to make sense and click. I also dated a woman on and off for three years. When I was a junior I went to Mexico with Holy Cross and I found myself praying the Magnificat; things started to make sense. I remember standing at the shrine of Guadalupe, thinking about my life and realizing that this was what God was calling me to do. I spent senior year discerning - not IF I should enter, but WHEN.
I spoke with (former chaplain) Father Ford, and Father Vodoklys. I joined the Discernment Group when it was formed - it was really wonderful to be able to talk with other guys about what we were thinking about, what we were praying about. There were seven or eight people that first year, and about half discerned that this wasn't what God was calling them to do, which was good in itself. My friends were also very supportive. There are times I'm not sure I could have remained a Jesuit if it weren't for friends telling me they were praying for me." -Holy Cross Magazine, Volume 43 Number 2
It was amazing to read that Michael visited the Shrine of Our Lady of Guadalupe, because the Prayer Shawl ministry at the Church of the Incarnation is dedicated to Our Lady of Guadalupe. Our Blessed Mother, I am sure, has her arms around Michael as he continues his journey to the priesthood.
On November 10, 2010 Michael J. Rogers S.J. had the honor to serve Mass at St. Peter's Basilica in Rome. The Dean of the College of Cardinals presided at the Mass, while the Holy Father, Pope Benedict XVI, gave the final commendation. Michael is in Rome for his final Theology Studies at the Pontifical Gregorian University, and has been a member of the Society of Jesus, the Jesuits, since his graduation from the College of Holy Cross. He is expected to be ordained to the Transitional Deaconate in April, 2012 in Rome, followed by Ordination to the Priesthood, likely in Boston, MA in June 2013.

The entire Rogers family travelled to Rome to celebrate the Christmas season in 2010. This was the first time seeing Michael in over six months. They experienced a wonderful personal tour of the land. Their first day was spent touring Michael's home, the International College of the Gesu' where Ignatius of Loyola lived. They saw the rooms of St. Ignatius, the actual rooms where the founder of the Society of Jesus lived while in Rome. Indeed the experience was very beautiful and very moving. They saw the exact spot where St. Ignatius celebrated Mass and the actual place of his death. As imagined this experience was the beginning of a wonderful trip. This entire tour the Rooms of St. Ignatius can be found on a touching video created by Michael S.J. himself: http://www.youtube.com/watch?v=8brc3S9FNmg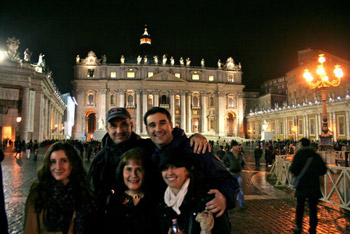 Michael's tour continued the next day (Christmas Eve) to the Vatican museum and the Sistine Chapel which captured the family's wonder. In the words of Michael Rogers, Sr., it was "overwhelming in its beauty and inspiration." The family shared a wonderful mid-day meal at the Jesuit residence and then departed for St. Peter's Basilica. They waited in line in a cold rain for over two hours...passing through security...and finally, with tickets in hand, entered the Basilica at 8:45pm to wait for the 10:00pm Mass to begin. The very emotional experience was doubly blessed as Pope Benedict passed right by the family. The Rogers' daughter Mary Kate was quite visible in the media as the Holy Father processed by.
On Christmas Day, Francis Rogers, a wonderful tenor, the son of Michael and Mary-Ellen, had the honor of singing the communion meditation in Italian at the Church of the Gesu', the main church of the Jesuits in Rome. It was said that the nuns who were kneeling nearby began to cry. This journey continued to exude very joyful and moving emotions. This writer can surely predict that Francis will have a special role in his brother's ordination and First Mass.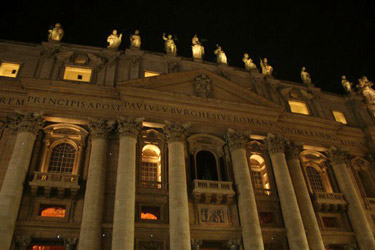 And to continue the amazing tour, Michael took his family to the prison cell where St. Peter was held by the Romans. There was an actual indentation in the stone wall, where by the power of God, his head made that indentation. The family was very moved and stood for a time with great reverence. The next day they visited St. Mary Major, St John Lateran and the Holy Steps that Jesus is said to have scaled. At Assisi, there was a blood-stained stocking of St. Francis where the blood was still the blood-red from his stigmata. It had NOT turned brown as most dried blood would. Mike Rogers, Sr. speaks of Assisi as one of the most beautiful places on earth.
Their secular tour included the ruins of the Coliseum, the Roman Forum, the palaces and the Pantheon. The Pantheon, 300AD, is a structure that was originally a temple to Roman gods, turned into a Catholic Church after Constantine.
The Rogers family returned home safely and Michael continues with his studies on his journey to the priesthood.
Michael has indicated that he is planning to celebrate his First Mass in St. Pius X Church in Westerly, Rhode Island. This is where his mother grew up and where the family maintains a summer home. He anticipates (when he is home) helping Father Moran at Incarnation. Visit Michael on his blog at: http://mikerogerssj.blogspot.com/
Michael's journey is an inspiration for all young people to listen to an inner call to the priesthood or religious life. We look forward to his story being shared with our young people when he is home. God bless you Michael and please know that our prayers are with you as you follow your path to the priesthood.
Noranne Wamester
Pastoral Associate, Church of the Incarnation

Contributing writers:
Michael Rogers, Sr.
Michael Rogers, S.J.