Faith Formation Grades 7-8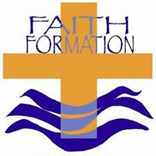 October 18, 2020
Dear Families,
I want to welcome you to a new year of Faith Formation. I am excited to help our young people be closer with God and trust in our faith. The goal of our program is to pass on essential elements and traditions of our Catholic faith to our young and to help them incorporate these teachings in to their daily lives. The mission is to form a new generation of Catholics who know and love Jesus Christ and live as his disciples in the community of the Catholic Church. Many parents believe that the only purpose of Faith Formation is to prepare their child for the Sacraments of Communion or Confirmation. Faith formation is for the child's entire life, we never stop learning about God and how much he loves us. Your children cannot become the future generation of the church without knowing what their faith is and how to live it.
"Education in the faith by the parents should begin in the child's earliest years. This already happens when family members help one another to grow in faith by the witness of a Christian life in keeping with the Gospel. Family catechesis precedes, accompanies, and enriches other forms of instruction in the faith. Parents have the mission of teaching their children to pray and to discover their vocation as children of God. " (CCC)
Since the number of classes for Faith Formation is minimal we ask you to make the times scheduled for Faith Formation a priority. Through the New Year, our youth will receive important information in our program virtually. This year we will strongly encourage parents to continue walking closely with their children as they grow in knowledge and practice of their Catholic faith through family assignments. More about the program will be explained Monday, October 18th at our welcome meeting online.
Please review the calendar for the year. Note that classes meet only twice monthly virtually. Young ladies in both Gr.7 and 8 will meet on Wednesday evenings and young men in both Gr.7 and 8 will meet on Tuesday evenings. Each grade will have a separate retreat scheduled in the New Year.
This Tuesday and Wednesday, October, 20th and 21st from 6:30-7:30 pm are our first Faith Formation classes. Please have your child log into the link below for class. We are using Google Meet for classes. If there is an issue logging in, please call the number below.
https://meet.google.com/pgg-esey-wvs?hs=122&authuser=0
God's blessing to you and your family,